Five Reasons to Watch 'Shoplifting MILFs' (Featured Video)
Busty . . . and busted. The larcenous fingers of four MILFs aren't so nimble they can evade the authorities, as Alura Jenson, Kit Mercer, and others discover in Shoplifting MILFs. Sex may be the only way to avoid the slammer. Check out our five reasons to watch this new featured video!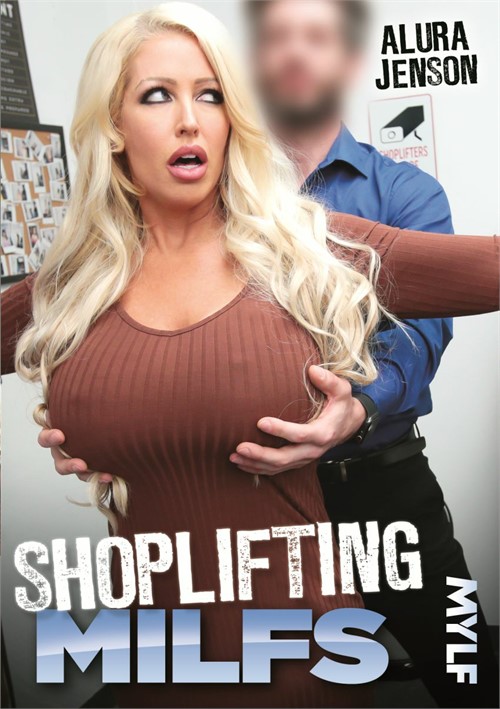 A familiar premise remade with MILFs
The basic concept was made famous by Crave Media's Shoplyfter series: a beautiful babe is busted for shoplifting and then has sex with the security guard who caught her. The twist is that instead of insolent college-age women, MYLF puts older women in the scenario. It works just as well, if not better, since the spot-on performances of the leads perfectly capture a imperious, "no one would dare challenge me" attitude. (I can't help but think of the 1997 classic The Ice Storm, which found a daughter and then mother both giving in to the temptation to shoplift at the same store.) Suddenly, when they're caught red-handed in a theft, it scrambles the power dynamics in sexually provocative ways.
Security-cam style
Each scene is presented as if from footage pulled from security cameras. While the filmmakers wisely don't overdo it, there are many shots with a rough, deliberately loose and imperfect framing to suggest voyeurism and immediacy. Conventional angles and perspectives are gracefully incorporated to give us a better vantage of the action at all the key moments. The movie even fogs out the faces of the guard characters to further enhance the "reality porn" feel.
Staying in character
At its core, Shoplifting MILFs is a high-concept roleplaying scenario with a submissive/dominant dynamic. That's why it's appropriate that all four MILFs seem singularly displeased to find themselves in a situation where they need to give sexual favors to avoid prosecution. Many similarly themed porn scenes abandon the established character framework as soon as the sex begins. Not so in Shoplifting MILFs, where each lead actor maintains an appropriately displeased scowl even as things heat up. Bianca Burke (scene one) is particularly compelling as an anguished MILF who can't quite believe the crazy situation she's found herself in. Every indignity is worse than the last, until she's compelled to take the guard's popshot squarely to the face. Burke's performance remains focused and memorable throughout.
The "Work hard and be nice to people" sign
Three of the four Shoplifting MILFs scenes play out in a side room with a sign reading "work hard and be nice to people" looming in the background. The "work hard" component is readily fulfilled by all characters and filmmakers involved, but the application of "be nice to people" seems spotty at best. These security guards drive a very hard bargain with their very own, highly intimate idea of what constitutes justice. In scene four, the sign is put to creative use as a momentary prop to cover Alura Jenson's massive chest. (Sure, it's a big sign, but it's not that big.)
Richelle Ryan's strip search
Richelle Ryan's character is a wily thief willing to conceal stolen goods in all sorts of creative places. On the surface, it seems like a good plan, because who would be brazen enough to check someone's underpants for stolen jewelry? She's clearly underestimated the doggedness of her opponent, who makes her shed every scrap of clothing. Feisty Richelle attempts to salvage some dignity with a hand bra and other modest gestures, but it's just a matter of time until she submits. The lesson is clear: crime doesn't pay . . . unless you're a viewer of Shoplifting MILFs, in which case the rewards are as ample as Richelle's mountainous assets.