Five Reasons to Watch 'Mature Anal Vol. 3' (Featured Video)
Now in its third volume and fourth year, Mature Anal is itself a maturing series that improves and excels in each new installment. The latest edition debuts today as our fresh featured video selection. Read five reasons it's an essential addition to your porn queue.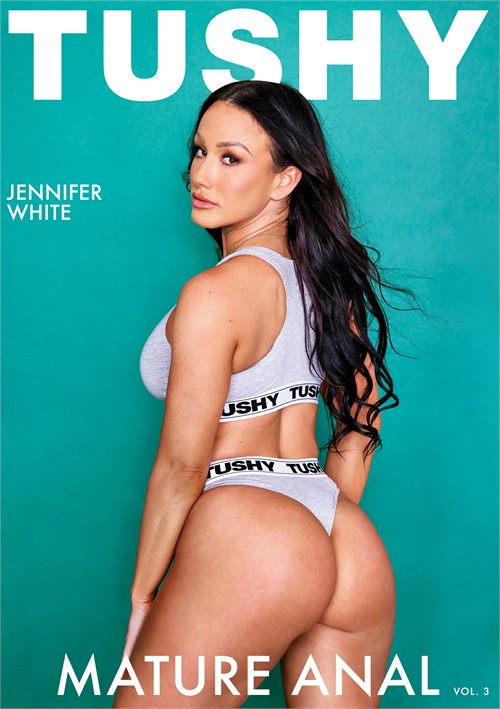 Pervy therapists
Therapy has gone mainstream. Once upon a time, it was tempting to think of it as the exclusive domain of the upwardly mobile, neurotic urbanites who have stocked Woody Allen movies for 50 years. Thanks to an increasing awareness of the importance of mental health, consultation with a therapist no longer carries such stigmas. That's why the therapist fantasies of Mature Anal will resonate with a sizable share of the audience, even if these psychologists are hardly paragons of professional ethics. (In-session mutual masturbation and anal sex are presumably not methods sanctioned by the American Psychological Association.) Jennifer White and Mick Blue play therapist colleagues who finally decide to practice their sex-crazed anal methods on each other. The characters and scenarios connect to prior Tushy segments, but foreknowledge of the established continuity isn't essential.
Syren's make-up sex
Syren De Mer is the eldest player of any featured in Mature Anal Vol. 3, so it's fun to see her build on all that know-how and fully cut loose. She plays a vexed housewife who has been stiffed once again by her workaholic husband. Despite her efforts to create the perfect romantic meal, he runs late and misses out. Syren is understandably perturbed, at least until the two work through their woes with (what else?) anal sex. She is vibrant and vocal throughout, begging for Mick Blue to – let me check my notes for the precise phrasing – "destroy [her] ass." Behold the sound of true reconciliation! Blue delivers so thoroughly that Syren even lets loose with a spectacular bit of squirting.
Veteran stars in new contexts
Befitting the "mature" theme mentioned in the title, this Tushy flick features stars whose collective years in the industry runs well past the four-decade mark. Long-time porn fans will be intimately familiar with the many adventures of White, De Mer, and scene three star Kaylani Lei. They all bring their own stories histories with them, which enrich and enhance the action here. To me, Lei is most closely associated with her days as a Wicked contract star, but she joyously, seamlessly inhabits a much more hardcore persona in Tushy's world, where she plays a wife who enjoys an anal hookup with her trainer. As terrific as Tushy is at spotlighting new talent, they are just as adept at bringing new, nasty vigor to veteran stars.
The camera shows all
And by all, I mean all. I am not technically well versed enough to know what goes into a great movie closeup, but Tushy has mastered the art. There are shots in Mature Anal that zoom in so close to the penetration and gaping, you'll feel like you're about to be swallowed by it all. (Watch, for example, the quite-literally penetrating moment at 27:25 of Jennifer White's scene.)  How do they do it? And how do the performers prepare for such all-revealing moments? (I can only imagine the degree of prep required to pull off such visuals.) It's a testament to the skill of Tushy, and its stars, that these moments are so smoothly integrated into the erotic whole.
"We both knew where things were going."
So says Kiki Klout in the movie's final scene, and she's right. Just like her character, we know what to expect from Tushy at this point, and we revel in it. It will be glamorous and posh! And it will feature anal sex that'll make you want to watch no other genre until you are a "mature anal" watcher yourself, grizzled and wizened, but still hunched at your computer waiting for the next Tushy scene to drop.