Five Reasons to Watch 'Penetrating My Tiny Sis' (Featured Movie)
Team Skeet delivers again with Penetrating My Tiny Sis starring Kenzie Reeves, Leana Lovings, Vanessa Moon, and Nicole Auclair. Here's five reasons to watch Penetrating My Tiny Sis.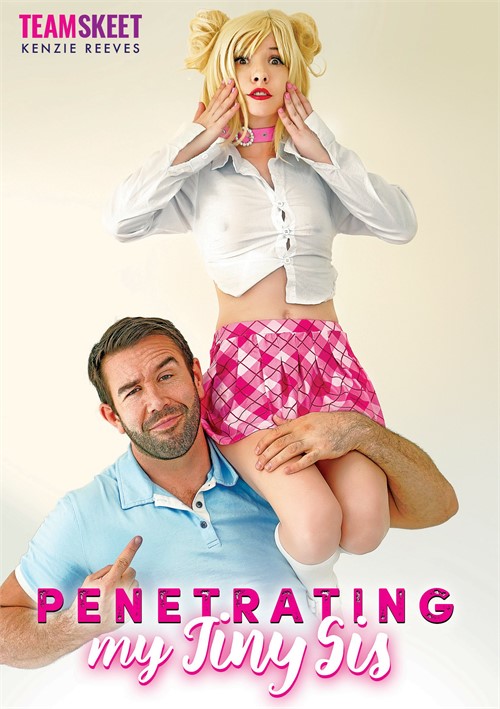 Kenzie Reeves
Kenzie Reeves may well be the MVP of sex room energy. She always rocks Barbie-yellow, silky hair, and a totally shredded bod that is easily missed if you're staring into the bottomless pools in her eyes. Everything about this woman is jaw-dropping. Her tiny tits gets strikingly erect in every scene, as if she's been stranded in a blizzard. Her ass pops no matter what position she holds. Finally, even with all that, her pussy may be her most impressive asset (they're all impressive), tight as a pit bull grip and so gorgeously pink you almost don't want to see it penetrated. Still, you definitely want to see it penetrated.
Leana Lovings
Leana Lovings had one of the biggest breakout years in recent memory, and for good reason. Her charming, shy attitude and insecure tonal delivery of dialogue add a nuance that simply doesn't exist with many other stars. Juxtaposed with her confidence and pure enjoyment when she starts fucking, you have a superstar. Leana gets very naughty with her stepbro, wearing a cute teal top with bunnies on it, she easily pulls his mast up. Demanding tribute, she eats his dick like she has a point to prove. They get wet in the tub and Leana spreads her legs while still soaked in soap. She effortlessly delivers another scene that will be stuck in your head for months.
Vanessa Moon
Vanessa Moon has got it going on. Oversized pink sweater, cute white kicks, and adorable pigtails. A Venus-fly trap of a step-sister. Her look is playful yet thinly masking a much more sinister desire underneath. It's a hard line to walk yet she does it flawlessly. And when she takes her clothes off? Forget about it! That pussy is pure gold and she knows how to use it. She solves a nice puzzle with a beautiful orca whale before being distracted by the whale-like cock of her step-bro, and then its game on. She feigns innocence, ignorance, and then quickly adjusts with an ear to ear grin because she doesn't have to hide the slut inside any longer.
Nicole Auclair
Nicole Auclair is another new performer who will certainly be on your radar after watching Penetrating My Tiny Sis. Everyone brings their own style to scenes, but Nicole fits the innocent, curious tiny sis archetype down to the letter. Her smile is infectious and genuine, while her body looks so natural it could be in one of those old French films. She's pretty, and I mean very pretty. I just as much want to take her to the movies and order some fries with her as I want to see her get hard-fucked by her big-cocked step-bro. She knows what she's got, too, and utilizes it to get what she wants. She pouts on her bed, begging for dick, blue sweater, long black and white kitty socks, and tight jean shorts. Irresistible doesn't even begin to describe her. When she's being eaten out, she reflexively bends one of her legs up to her head, and emotes with the same thrill as a child playing a game. That kind of pussy is a well you could drink from again and again, for the rest of your life.
No one loves you like family
Rarely does anyone say they watch porn for the plot, but Penetrating My Tiny Sis has enough to at least get you to raise your eyebrow, among other things. No, it's not going for the Oscars, but the family roleplay category and plot device is a natural enhancement to any standard porn flick. Think about it, would you rather watch two randos banging, or a smokin' hot forbidden step sis fighting her urges day by day until she can't hold it in any longer and needs her new step-brother's bratwurst? The sex is better, the scene is sexier, and the jerk off is explosive!
Tiny girls take it hardest
No longer are tiny girls simply a novelty in porn, but they are the stars. With superheros like Kenzie Reeves and Leana Lovings taking the industry by storm, it's invasion of the tiny people and we love it. Why? Tiny girls have a more concentrated area of mass, therefore they can flex and tense a lot harder than the average person. You know any cock inside there is getting snatched and pulled on with the force of Hercules. The satisfaction of seeing a smaller woman filled and stuffed with pornstar penises is satisfying in a way that's cleansing to the soul. They get filled more, scream louder, and fuck harder.