Five Reasons to Watch 'Trouble'
When Lilly Bell's involved, you better believe there will be Trouble! Here's five reasons to watch the new feature from Ricky Greenwood and Dorcel.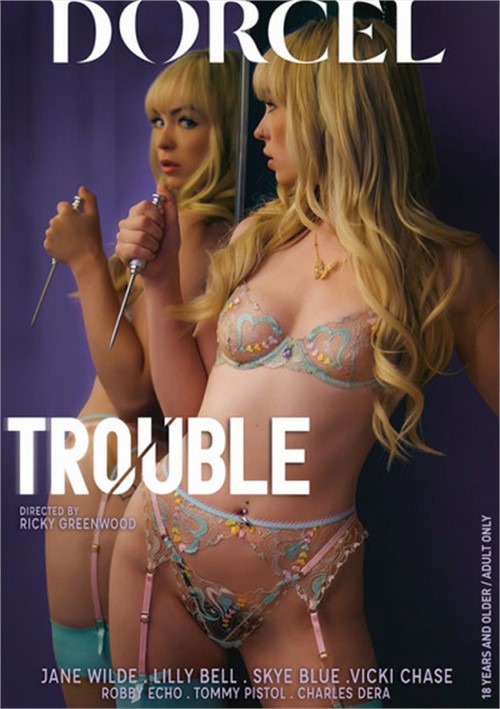 Ricky Greenwood's magic touch
Everything Ricky has his hands in has been turning to gold, as evidenced by his recent AVN wins. Long narrative plots sprinkled with realistic and sloppily wet sexual encounters serve to make his films stand out from the pack and guarantee a valuable and worthwhile viewing experience. Trouble has five scenes with the movie clocking in at over three hours. See Lilly Bell hatch a mischievous plot full of dirty, nasty, tasty sex. Now that's content!
The indomitable sexual spirit of Vicki Chase
If there's one thing you can expect when Vicki Chase on the screen, it's hot cock-tugging action. She bursts out of the gate in the first scene a sexy blue lingerie that'll get you on your knees begging for more. The true satisfaction begins to brew when she holds her tongue out like a dog and Charles Dera slaps her drooling mouth over and over with his big fat dick. Then they take the night into paradise.
Skye Blue getting railed by two dudes
Skye Blue's plump natural tits, soft features, and divine blonde hair are enough to get anyone on the brink of leaking their love juice, but when you add two dicks to the equation, it's a whole different ball game. Four balls to be exact. It's an understatement to call it art when she's stuffed in the mouth and pussy at the same time, being humped back and forth from her face to her hips while her tits jangle like loose car keys.
Lilly Bell and Jane Wilde lesbian action
In the spirit of covering all the bases, Trouble blesses us with a pure girl/girl between Lilly Bell and Jane Wilde. You couldn't ask for a better combo: the small inconspicuous blonde and the gorgeous curious brunette. The twist is, of course, they're both totally horny. Lilly's floral shirt doesn't last long as a camouflage or legitimate covering, because it's torn off to get to her sexy little titties. She packs an impressive full bush that begs for exploration. Jane obliges. This is one of those rare sexual encounters where both participants win.
Threesome climax
They say one good turn deserves another and I couldn't agree more. To our pleasure, Lilly and Jane agree as well, and perform in the final scene once again together but decide to up the ante by adding big dicked daddy Robby Echo to the mix. We get to see new tricks with our same favorite players. Jane's face turns beat red as Robby pumps her from behind. Lilly's mouth falls open while Robby's cock slams deeper into her pussy. Lilly fondles and licks Jane's titties while Jane sucks down dick. There are plenty of parts and pieces to play with and they make sure they make use of every single one for this perfectly culminated finale.