Five Reasons to Watch 'Cuma Sutra Magick'
If you've ever cracked open a copy of the Kama Sutra, you've probably been dazzled by the full range of potential pleasures therein. And if you've ever watched a movie from Adult Time, you've probably realized how creative adult entertainment can be. The company's latest, Cuma Sutra Magick, debuts today as a GameLink VOD exclusive! We proudly present five reasons to watch.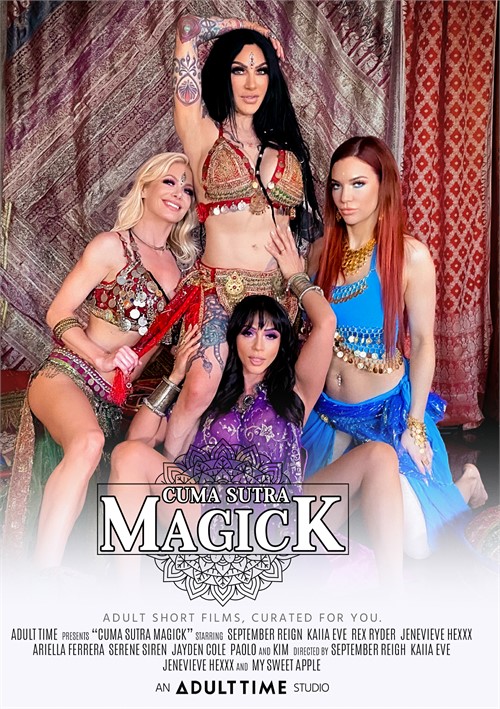 Everyone loves a sexy librarian
Some porn themes are so pervasive they almost seem overexposed. The "naughty babysitter" is fun, certainly, but we've seen so many versions of it that it's descended mostly into parody. The dirty librarian, however, is just scarce enough in porn to retain a welcome freshness. The opening scene of Cuma Sutra Magick avoids some of the cornball factor by largely eschewing the usually absurd storylines that often accompany such scenes. There's no zany dialogue about overdue books or overblown "shush" gestures. Instead, we simply absorb the visual pleasures of a bookish, bespectacled September Reign getting naughty in the library. It's as if that famous real-life library misadventure made famous by Kendra Sunderland was allowed to play out unimpeded.
Jenevieve Hexxx's directorial debut
Jenevieve Hexxx, veteran of numerous kink flicks as well as the blockbuster Fallen II, steps behind the camera for the first time! Her scene, an exotic and tantra-inspired all-girl foursome, quickly becomes the movie's visual highlight. (Unsurprisingly, it's featured on the video's cover and prominently in its marketing materials.) "Tantric arts are a magickal lineage that I intend to conjure in all forms of sexual divine feminine mystery teachings. We could not possibly have had a more amazing erotic beautiful group of priestesses for the scene. I love them all so much! We had an all-female cast and crew too. Blessed be," Hexxx noted in a press release touting her debut.
Kaiia Eve's most unusual moans
At first glance, Kaiia Eve's scene does not have the same splash as the crazed tantric orgy captured by Jenevieve Hexxx in scene three. Even so, it has pleasures and curiosities all its own! As Eve whips herself into a frenzy with thoughts of a steamy hookup, she is reduced to yelping moans that are downright animalistic in their primal pleasure. It's always exciting and insightful to see moments that represent sex in its purest form: a truly un-self-conscious state. (Hey, maybe this scene has tantric influences, after all.)
The stripped-down simplicity of scene four
And by "stripped down," I mean the term in the most literal sense. Scene four spotlights a deceptively simply striptease featuring a performer referred to only as "Kim" (a monosyllabic name, as if to reinforce the segment's lean and mean sensibilities). Like Kaiia Eve's scene before it, it focuses heavily on the power of the performers and the potency of the dynamic and story they share.
Four scenes, four directors
It's not unusual for a movie to have segments directed by multiple filmmakers. (Even porn auteur Kayden Kross sometimes mixes in a scene from another director into her Deeper DVD and VOD releases.) Adult Time, however, fully embraces the possibilities of varying cinematic voices by presenting a scene apiece from Jenevieve Hexxx, My Sweet Apple, September Reign, and Kaiia Eve (the latter two directing themselves onscreen).