Five Reasons to Watch 'Step Siblings With Benefits Vol. 6' (VOD Exclusive)
Team Skeet presents four B/G/G threesomes with a naughty spin: they're keeping it in the family!  Check out five reasons to watch Stepsiblings With Benefits Vol. 6.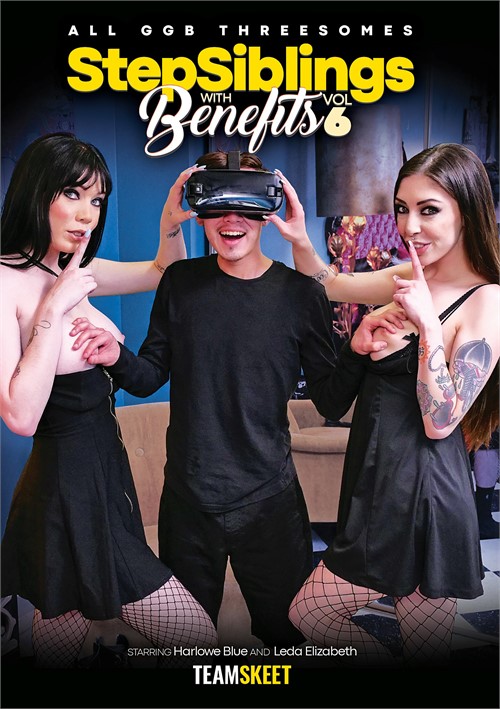 The VR trick
One problem with VR technology is that while it creates a new virtual environment, it also deadens your sense to certain aspects in your actual environment. Harlowe Blue and Leda Elizabeth use this fact to their advantage in scene one! Their shy stepbrother (Juan El Caballo Loco) is so absorbed in insular pursuits that he seems to have no social life at all. His stepsisters conclude that if they don't hook up with him, no one will! They convince him to watch a porn scene using a VR headset, and he becomes so swept up in it, he doesn't realize that they are actually acting out the movie's action on him.
With his modest stature and decidedly immodest penis size, Juan Loco is perfectly suited for porn's many stepsiblings and wide-eyed MILF seducers. He's on hand for two of the movie's scenes, bringing his sincere "aw shucks" charm to the proceedings. In scene one, he's a nerdy but sweet stepbro who may be a little bit savvier to his stepsisters' scheming than he lets on. In scene two, he plays a devoutly religious stepbrother who yields to his sisters' devilish inclinations (see below).
Jesus saves?
Religious themes don't appear often in porn, but Team Skeet uses some Biblical references to amusing effect in scene two. Juan Loco is a devout young gent who wants nothing more than to stand on the corner, holding a sign that says "Jesus died for our sins." His carefree stepsisters are more interested in going to the beach! When they return from their beach jaunt to find him still standing on the corner, they decide to tease him a bit. What better way to distract the faithful than with some topless fun?
Hazel loses it 
The character elements in each scene help to make for a varied and interesting tone. In scene three, Audrey Hempburne tells her stepsister (Hazel Moore) about finally losing her virginity. Hazel is eager to hear the details, but she's quite jealous, since she herself is still a virgin. With a wicked gleam in her eye, Audrey suggests that she call up her new lover to do the deed. This becomes the basis for the scene's overall dynamic, wherein she becomes like an enthusiastic coach, cheering Hazel along as she enjoys her first intimate experience.
Generous scene length
Each scene in the movie extends to a full 34 minutes or more. While sometimes less can be more, Team Skeet makes the best of this extended run time. We're treated to longer exchanges of dialogue in the early going, giving us a better sense of the personalities and characters. The sex itself is allowed to develop fully, with a measured pacing that suits the exploratory nature of the scenarios.