Five Reasons to Watch 'Luxure: My Wife's Desires'
Luxure: My Wife's Desires features couples whose minds are as open as their marriages! GameLink is proud to present this freewheeling salute to sexual liberty as a VOD exclusive. Check out our top five reasons to watch!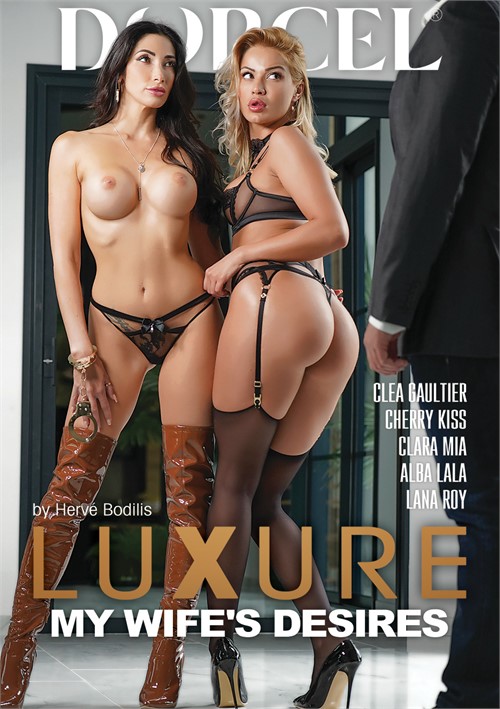 New look
Luxure: My Wife's Desires marks the first GameLink Dorcel exclusive since the company introduced its snazzy brand re-design. (Note the new streamined logo on the cover, the most immediate indicator of the new aesthetic.) Fear not, though, because the revamp hasn't altered the rip-roaring sense of sexual excitement that has defined Dorcel for four decades. You'll still find horny wives, hot European stars, and a passion for expanding sexual horizons. Dorcel's pitch-perfect sense for its own ideal brand image continues!
You have to love a movie that confidently announces its tone from the very top! In the opening moments of scene one, we see a barely clothed Clea Gaultier march confidently into a house with lover-to-be Ricky Mancini. We soon find out that she's been selected to be the third portion of a sex romp to spice up the relationship of Mancini and Cherry Kiss. Not everyone would have the chops to strut with such assurance — practically topless, no less — into such a scenario, but hey, not everyone is Clea Gaultier!
The cellphone voyeur scene
In all likelihood, many of you will watch this exclusive on your cellphone. That's why it's fun to see a meta reference to this fact in scene two, when a lusty husband watches his wife's affair on his phone via a video feed. It brings you even more deeply into the fantasy of their open marriage, as if you yourself are partaking in the voyeuristic fun with him.
The voiceovers
Confession: when I first encountered Dorcel's English dubs, they took some getting used to. Not even the best dubbing imaginable can match the voices perfectly with the mouths. At best, it can create a certain disconnect in the viewer, and at worst, it can become corny and distracting. (Woody Allen famously created an entire movie out of the idea of bad dubbing. Bad Lip Reading has racked up millions of views in similar fashion.) But just as a great dubbing actor can add their own nuances to an existing performance, so, too, can Dorcel's voiceover crew inject their own flavor. For instance, there's a hint of a southern twang in some of  Lana Roy's dialogue in scene four. Unexpected, fun, and frankly, quite sexy!
The spectacular final scenes
"I'll tell you a secret. The last act makes a film. Wow them in the end, and you got a hit." So says Robert McKee in a memorable scene from the movie Adaptation. His maxim applies quite thoroughly to Luxure: My Wife's Desires, which climaxes with a double-whammy of particularly erotic threesome scenes. Don't let the shadowy, low-key lighting fool you! Every intimate detail is on display here, from the cum dribbling off Lana Roy's chin to the heavy thrusts from behind into Alba Lala.