Five Reasons to Watch 'Anal Euphoria'
Is there any state of ecstasy to match the pure excitement of Anal Euphoria? We think not, and you'll no doubt agree once you see the latest GameLink VOD exclusive. We proudly offer five reasons to watch!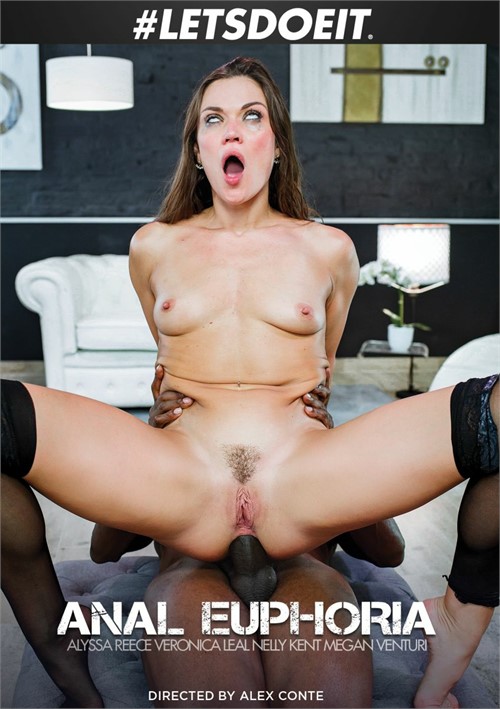 It's anal, baby!
Whether you've personally experimented with it or not, anal has an intrinsic excitement as a porn theme! It's the sort of sex act that contains its own forbidden allure. Indeed, why else would porn box covers so consistently trumpet things like "first anal" or "all anal"? At one point during the movie's action, star Mike Chapman presents his co-star (Nelly Kent) with a gift box loaded with anal-themed sex toy goodies. This is a perfect visual metaphor for the movie itself, which is equally laden with tantalizing anal excitement!
Pushing limits
Anal Euphoria's scenes are taken from #LetsDoeIt's Her Limit imprint, which attempts to push its featured performers to their point of ultimate pleasure. It's a journey you'll share as a viewer when you witness these four pornstar beauties moan, gasp, and gape. Best of all, the movie contextualizes these extreme moments in a controlled, sex-positive environment that emphasizes the comfort levels of all involved, even when pushing their own boundaries.
Interesting positions
For all its attachment to pleasing visuals, #LetsDoeIt is equally committed to an ultra-explicit depiction of sex. In one particularly memorable moment in scene three, Megan Venturi fellates Chapman while he squeezes his thighs around her head, as if acting out some sort of kinky martial-arts move.
#LetsDoeIt artistry 
Forget dingy warehouses, flimsy sets, and seedy hotel rooms. Creating a truly transcendent sexual experience means completing the fantasy with a beautiful, appealing environment. #LetsDoeIt is one of an increasingly large band of studios that makes sure to situate action in a place just as appealing and beautiful as the performers spotlighted. The Her Limit sets are filled with stark black-and-white color schemes that make them look ready for a Vogue fashion shoot!
The redoubtable Mike Chapman is our guide throughout many of the movie's scenes, charming his co-stars with banter and physical grace. Indeed, your dominant impressions after watching the movie may be of Chapman himself, who is clearly loving every minute of a dream job. Moreover, he and Jack Nicholson are likely two of the only people to have the proper charisma to get away with wearing sunglasses indoors! (Chapman also squeezes in a fun reference to the 1992 classic Basic Instinct in scene two. You have to love anyone who knows his hardcore cinema!)