Five Reasons to Watch 'Cheating with Black Cocks Vol. 2' (VOD Exclusive)
For some people, sexual fidelity can be a challenge even under normal circumstances. There's just so much variety in the world, after all! But when the temptation of a beautiful BBC — or three — presents itself, well, all self-control vanishes in an instant. That's precisely what happens in Private's Cheating with Black Cocks Vol. 2, the new GameLink VOD exclusive!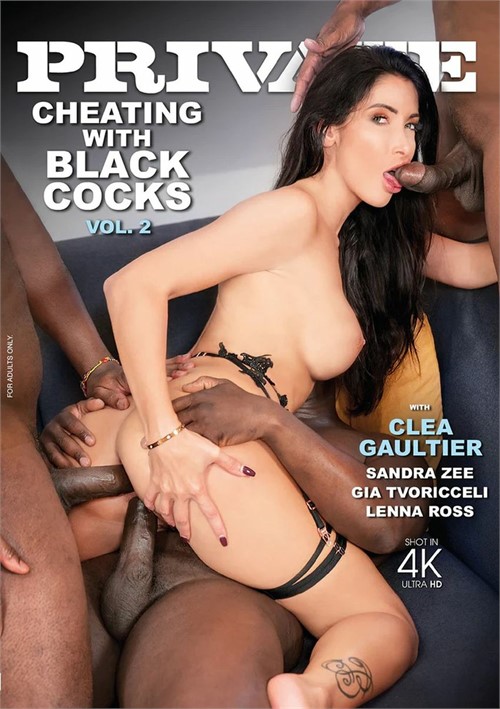 A European gloss on interracial
In general, the interracial genre has been associated with popular American porn labels like Blacked and Blacked Raw. It's never had quite the same currency in Europe, making Black Cocks Vol. 2 an enticing showcase of an alternate take on the material. There's a marvelous bluntness to the scenarios and dialogue, as when Clea Gaultier waltzes up to three men and glibly asks them if they'd like to see her naked. (They answer in the affirmative, of course, while Clea's witless boyfriend goes off to take a business call.)
Even if you don't immediately recognize the name, you are likely familiar with his work. Kessef has been appearing in porn for a wide variety of studios for 25 years, earning Urban X Hall of Fame induction in 2019. He's also been a prolific director! Cheating with Black Cocks Vol. 2, his latest filmmaking effort, is imbued with the same energy as his acting performances.
Erotic narration
Since the movie's stars are European, Private has dubbed over their narration with British voice actors for anglophone audiences. While this creates a slight disconnect between the narration and the stars onscreen, it also adds an extra layer of auditory appeal. The narrators prod the action along with some enjoyably ribald, salacious phrasing that nicely sets the scene for the sex to follow.
In the narration for her scene, we are told that Gia has grown bored with the predictability of her relationship. When she passes by three workmen on the street, a devilish idea crosses her mind. She sends her boyfriend away and approaches the men. (Amusingly, they're caulking a service box as she arrives, in a fun visual pun from director Kessef.) She has a small problem at her apartment, and maybe they'd be kind of enough to fix it? Upon entering her place, she gets more specific, pointing to her booty and saying, "It's never had three black men!" Industrious workers that they are, they immediately address this glaring oversight!
The signature shot
It's practically required in a movie like this, but somehow it carries a particular power each time it appears here. You can probably picture it: the featured star is on her knees, face upturned as three enormous dicks encircle her. (It's almost like an inverted maypole, with emphasis decidedly on the "pole.") This trailer-worthy moment makes its requisite appearance in all four scenes here, perfectly conveying the soaring sexual spirit of all of the movie's featured performers.