Five Reasons to Watch 'Secrets of A Busty Hot Wife' (VOD Exclusive)
What are the Secrets of A Busty Hot Wife? A raging libido, for sure, but one that may manifest itself in surprisingly kinky ways! It's foot fetish time in MILF-ville, and your bus straight into the center of it is departing now. Climb onboard in this new GameLink VOD exclusive!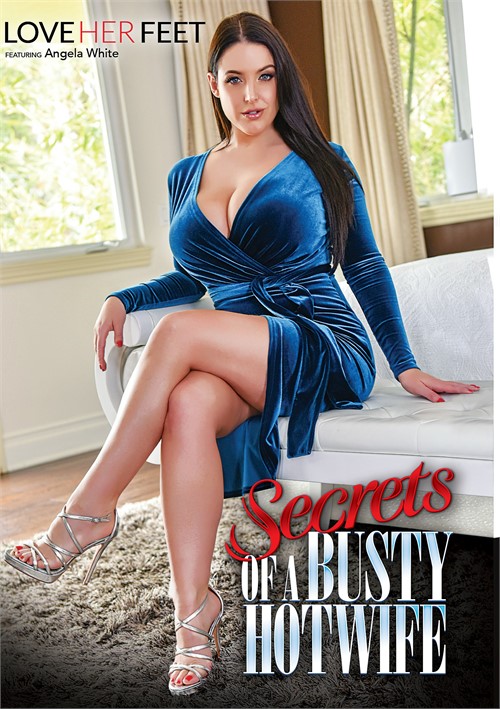 Angela White's versatility
Is there any genre Angela White doesn't excel in? If so, I have yet to see it! I'm not sure if Angela herself actually does have a foot fetish, but she persuasively embodies such inclinations throughout her scene. When we first glimpse her, she is sitting on the edge of her bed, carefully painting her toenails. (A thick, soft carpet is beneath her feet, as if to emphasize the sensual nature of the scene.) A deliveryman rings her doorbell to present her with a new pair of shoes. She suggestively asks if he would mind helping her try them on, and let's just say that things blossom from there. White, ever the intensely committed performer, leans heavily into the foot fun.
Cum on toes
Cumshots are one of the most indispensable themes of porn. You'd probably have to search long and hard to find a hardcore boy/girl scene that does not heavily emphasize the climactic cumshot. Even so, these sequences can become rote at times, as we watch filmmakers shoot their bolt, so to speak, on a standard facial or creampie. That's why it's fun to see the scenes in Secrets of A Busty Hotwife wrap up with cumshots dripping off performer's toes! It's the logical conclusion in a foot-themed movie, of course, but it's also a refreshing visual twist on a classic porn trope.
Before Anissa has her yoga lesson in scene two, she changes into her outfit in front of a mirror. She poses provocatively as she does so, as if performing for an invisible audience. (In this regard, it is a nice acknowledgement of the voyeuristic nature of the pornography, even when no "audience" is present in the scene itself.) Naturally, we're also given an up-close look at her lovely feet, which understandably take center stage in this foot-centric frolic.
We pause for a reflective note here to remember Bill Bailey, a prodigious talent that the industry lost in 2019. Due to the staggered release schedules of many porn studios, we're still able to appreciate Bailey in new releases that were shot in the last year of his life. In this case, he's paired with Bridgette B, lending the scene his usual strong screen presence and laidback charm. (The scene also displays Bailey's distinctive voice, with its resonant tones and a hint of Tennessee twang. Though he was best known for his physical gifts, Bailey also had the sort of x-factors that add up to a true star persona.)
Bridgette B has the sort of body that inevitably makes writers like me reach for words like "bombshell, "mindblowing," and other hyperbole. Really, how can you not sound like a drooling 1950s Playboy copywriter when observing a star this magnetic? She's like a mix of a Marilyn Monroe pinup and a modern sex goddess like Jenna Jameson. Consequently, even her tease sequences alone pack a powerful punch, as we watch in awe as she shows every amazing curve. Busty Hotwife gives another doozy when Bridgette slips into the tub for a quick bath, before brother-in-law Bill Bailey decides to join in.