Five Reasons to Watch 'Good Girls' (VOD Exclusive)
Good girls finish last? Not in the wonderful world of Deeper! We proudly offer five reasons to watch this elegant new GameLink VOD exclusive.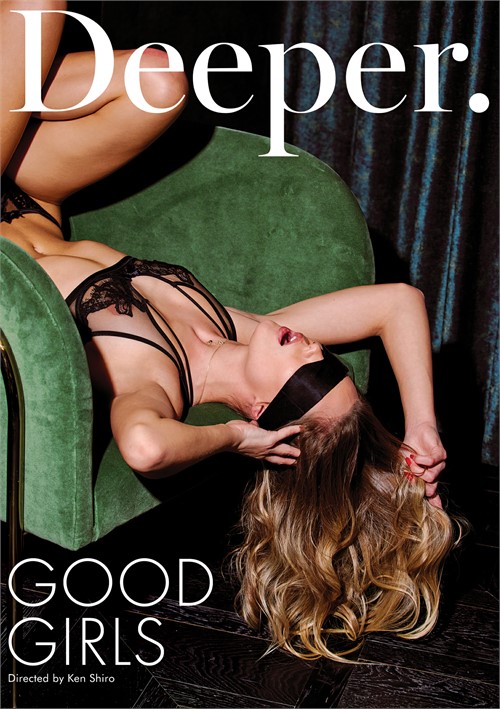 A new directorial voice: Ken Shiro
The Deeper label is defined by its founding voice, Kayden Kross, whose twisting, psychologically rich scenarios have won great acclaim. The basic template of the brand leaves plenty of room for exploration from other voices, though! Case in point is Ken Shiro, who makes his Deeper debut here, after a previous credit for Red Light District's Bomb Ass in 2018. He riffs on the same themes of betrayal, infidelity, and kink that Kross has explored so skillfully, but with his own tilt on the material. We're excited to see what he tackles next!
Shiro makes particularly effective use of Manuel Ferrara, who appears in three of the movie's sequences. In scene one, he plays a wheelchair-bound man who makes Aila Donovan act out his fantasies while he watches via a series of screens. (The voyeurism theme is effectively spotlighted in the scene's opening shots, which show Ferrara's eyes darting back and forth excitedly.) The kink of the exhibitionism theme gives the scene an extra dimension, while subtly reminding viewers that, in some sense, porn audiences are also voyeurs.
Phoning it in
In the modern world, phones are integral to our sexual lives. If you're going on a date, it was likely facilitated by an app like Tinder. Your go-to spot for porn is likely a private device like your phone. That said, phone interactions are not particularly cinematic, so this aspect of our intimate lives is not often dramatized onscreen. Shiro finds an effective way around this by creating a scenario that spotlights Avery Cristy responding to a series of saucy directives on her phone. (Each message is swept into the action as an onscreen graphic that sits alongside the actors.) As the requests become increasingly provocative, we wonder just how far Avery will go! (Spoiler alert: her obedience does indeed result in an in-person meeting with her sexy suitor, who shows he can be just as compelling in the flesh as he is in virtual form.)
There is no Maitland Ward sex scene in the movie, but her presence looms large thanks to a pivotal cameo in scene three. Michael Stefano thinks he's managed to get away with an affair, but Maitland aims to show otherwise. We witness his hookup with Alexis Tae, with a final twist that shows that you most certainly don't want to trifle with Ms. Ward. The final exchange of dialogue between the two is wittily pitch perfect! And Tae herself provides the perfect centerpiece in a sticky sex scene that quite appropriately glues the plot together.
The glitz of scene four
Scene four plays out on a stage that seems very similar to ones that could host the AVN or XBIZ award ceremonies. (Indeed, a cache of AVN awards makes a short appearance near the beginning of the sequence.) Liz Jordan plays a long-suffering assistant who has been tasked with setting up the venue for a big event. As she tests the mic in the apparently empty room, she pretends to give an acceptance speech in which she airs her grievances about her boss (Manuel Ferrara). She's startled to discover that her boss has been secretly listening in (another instance of the voyeur theme). Instead of reacting with rage, he uses it as an opportunity to get even more intimate with his attractive young assistant. Their coupling plays out on the stage, with the red carpet and glittering tinsel providing a shimmering, sexy backdrop for their consummated passions.