Five Reasons to Watch 'Views Vol. 1'
Oh, don't mind us! We're just here for the scenery. Views Vol. 1 is the opening chapter in a visually lush new series from Tushy, and it's a GameLink VOD exclusive. We proudly recap five reasons to watch this anal-sex extravaganza!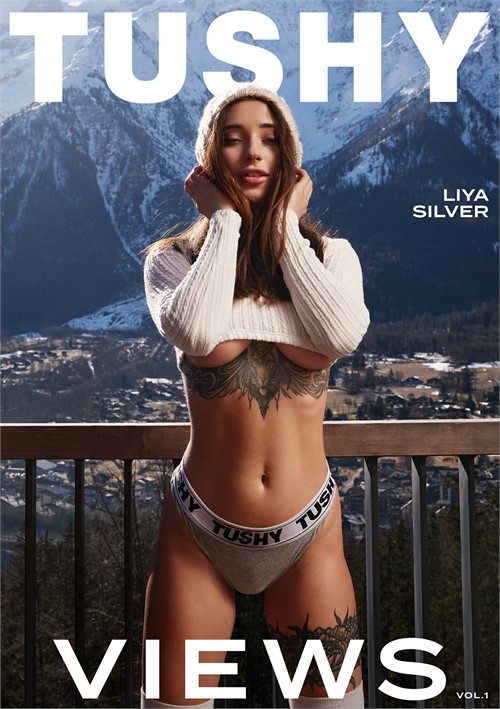 Amazing Alpine backdrops
Scene one takes place in the French Alps, a breathtaking porn backdrop if there ever was one! Liya Silver plays a ski instructor who allays her boredom by seducing her most attractive students. The sequence is rich in ski-lodge atmosphere, from snow-capped peaks to cups of cozy hot chocolate. As Liya and her latest conquest consummate their passions, the mountains look on approvingly through the enormous picture window. Hot sex and great scenery? These hills are alive with something much better than the sound of music . . .
Sexy narration
Each segment sets the scene with velvety narration in the classic Tushy fashion. By providing context, these story elements light the flame that ultimate becomes an incredible inferno of passion. It's a testament to the directorial care of the movie's makers that each star delivers a vocal performance that's both actorly and sexy. We particularly like the sensual, flirty tone of Liya Silver's scene one narration, which plays like a sort of aural foreplay.
Explosive finishes
Several of the movie's scenes climax with cumshots that almost threaten to knock the female co-stars' eyes out! They're left grinning as it all dips messily down their cheeks. For a brand as theatrical and luxuriant as Tushy, such a finish is an appropriately ostentatious, flamboyant touch.
The unique buildup to anal in scene three
At first, it seems like scene three is going to cut immediately to the chase. Lina Luxa and Christian Clay play actors who have secluded themselves in a swank house to work on their chemistry for an upcoming infidelity-themed movie. The sequence starts with the pair kissing passionately, so we quickly assume hardcore fun can't be far behind. Tushy flips expectations, though, by having Lina rebuff Christian when he suggests anal sex. The tension between them plays out as they work on their scene, reading lines back and forth. Finally, Lina realizes that Christian is a method actor, who is trying to get inside the head of his character by requesting something forbidden. Thrilled by his sexy commitment to the craft, Lina decides to give him the anal adventure he's craving.
As her scene opens, Valentina Nappi is growing bored of her life in Los Angeles. She came there from Italy to be the high-flying mistress of Mick Blue, but she misses the vibrant variety of Europe. Just as she's about to break the news to Mick, he enters the room with business associate Markus Dupree. Having sensed Valentina's boredom, he's decided to give her a threesome escapade she'll not soon forgot. When Mick whips back Valentina's dress to reveal a butt plug buried deep in her booty, he and Markus smile approvingly. (Sudden, emphatic moves are a memorable part of Mick Blue's pornstar playbook.) It means she's ready for the intense DP they're about to deliver! For a movie set substantially in European locales, it's also fun to see the flick bring it back to good ol' California in the final segment!