Five Reasons to Watch 'Busty Vol. 19: Buxom Beauties'
Busty . . . buxom . . . beauties . . . without doubt, these are some of the greatest "B" words in the lexicon. They're assembling in glorious fashion in Busty Vol. 19: Buxom Beauties, the new GameLink VOD exclusive (through 6/29). Check out the top five reasons to watch!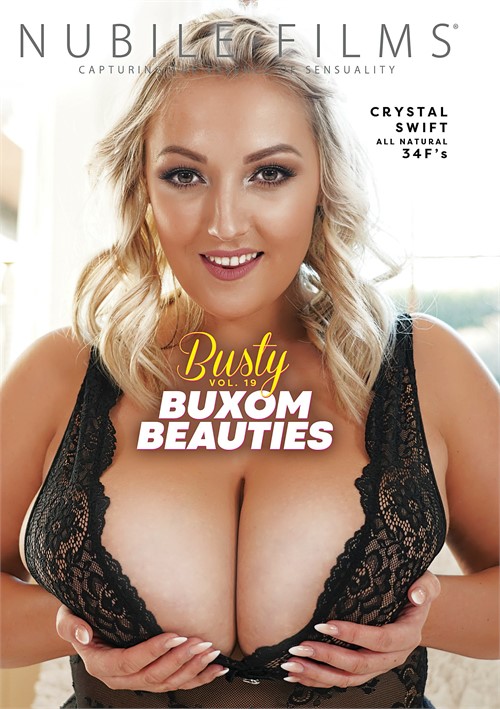 Two obvious reasons
Well, maybe that's eight obvious reasons, come to think of it. And those reasons rest on the chests of the movie's marvelous cast! In the end, there's no sense overthinking things. The main attraction in this beguiling flick is colossal cleavage, coming straight at you! Cover star Crystal Swift is certainly the most massively equipped in this regard, but co-stars such Marceline Moore and others are nearly as impressive. Most of the stars featured here were new to me, lending the whole movie freshness and a sense of discovery.
The music
Sure, music is porn movies is generally a secondary element, casually tracked in from music libraries. It can go a long way to setting mood and tone, though, as Buxom Beauties demonstrates. The bells and chimes of the intro's soundtrack bring a mythic, almost fatalistic feel to the action, while sweet-sounding tones later on lend a sense of tender romance.
Crystal's wink and beckon
The movie does well to put Crystal Swift front and center, both on the cover and in the movie's initial scene. At an all-natural 34F, she embodies the "buxom beauty" concept about as thoroughly as any star possibly could. She has also wonderfully inviting screen presence, particularly when she winks and beckons at the end of her tease sequence. Swift is inviting her co-star to join her, which he does with enthusiasm, but she's also in essence beckoning you, the viewer, into her personal playground
The perfect way to wake up
Most people wake up to the shrill bleating of an alarm. The handsome hero of scene four, however, is lucky enough to receive a wake-up call of an entirely different variety. Busty Sheril Blossom slips into his room while he's still fast asleep and proceeds to passionately wake him up with a blowjob! Rise and shine, indeed!
A big finish
Any big-boob flick aiming to measure up to a full double D of delight is bound to include a breast cumshot. Buxom Beauties quite literally climaxes with a memorable one, as Sheril Blossom wraps up her morning hookup by taking a load across her chest.