'Influence' Spotlights Elsa Jean's First Anal (From the Archives)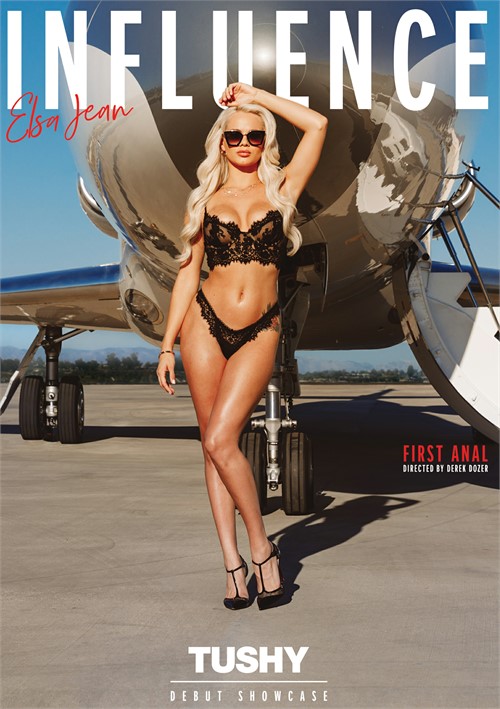 Even in the face of restrictions brought on by the global pandemic, it's been a big year for Elsa Jean. In April, she revealed her much-touted breast enhancement surgery. More recently, she had a major role in the GameLink VOD exclusive Daddy Complex. But her biggest 2020 milestone of all may just be her appearance in Tushy's Influence. In addition to its intriguing title, the movie boasts Elsa's very first anal scene!
In 2018, Elsa told GameLink sibling site that she was not yet ready to take the anal plunge. "I just don't shoot anything that I don't like, and right now, I don't like anal. I've only had anal sex three times, and I'm uncomfortable. And I don't want to be uncomfortable on film, because people can see that [ . . . ] I want to give a good scene." Now, two years later, Elsa has finally recorded her first anal . . . and she does indeed deliver a good scene, to put it mildly. In fact, Influence sets itself apart from other "first anal" movie in a significant way. Instead of simply placing an anal-themed segment at the center of the movie, and then filling it out with other themes in the remaining scenes, Influence dedicates nearly its entire running time to anal action. That's right: wall-to-wall Elsa anal scenes . . . five of them, to be precise!
"We followed her sexual adventures and showcased her most intimate fantasies as a real-life influencer for her millions of loyal and passionate fans. Elsa has a brilliant way of bringing this incredible joyride to life and Tushy's sophisticated audience will not be disappointed by these performances," director Derek Dozer told AVN of the movie.
"I really enjoyed working on this project with Derek. He's such a kind, easygoing and professional guy. I was lucky enough to pick my director, so I chose Derek," Jean noted. "We worked together a few times before, but I was really impressed with him on a Vixen shoot we did. I think he's an extremely good photographer. I love how creative and gorgeous his shots are. He's so efficient with how he maps out the day so it's easy for the talent."