Five Reasons to Watch 'Cougar Queen'
The newest addition to the catalog of GameLink video-on-demand exclusives plays on the MILF/cougar theme, but it's far from just your usual "naughty mom" corniness. Shot earlier this year at various remote locations by the always-creative crew over at Girlsway, this movie has its own very topical take on a premise provided by a reality TV fave. Cougar Queen is one undoubtedly one of the most potent distillations of the wild, weird year that has been 2020. We offer five reasons to check it out!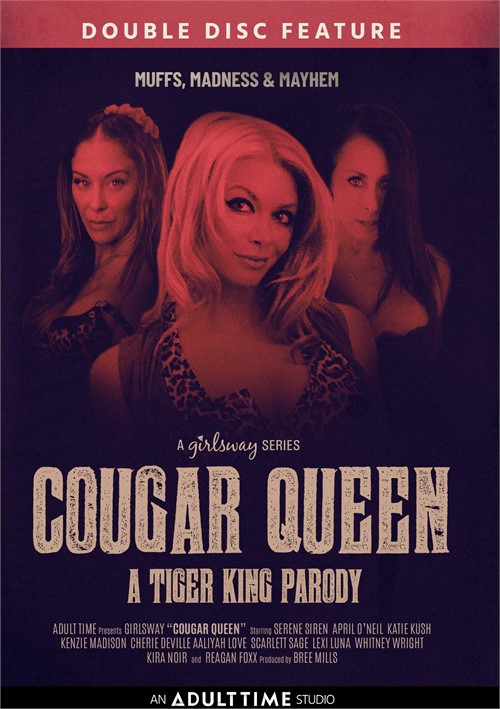 It spoofs a Netflix favorite
When COVID first exploded across the globe and most of us were in de-facto lockdown, many people passed the time with Netflix's popular Tiger King reality series. The porn version swaps tiger owners for three proprietors of lesbian porn studios, with all-girl performers taking the place of the big cats of the series. Thankfully, Girlsway's take on the material arguably has a bit more nuance than its inspiration (which admittedly wouldn't take much).
There's little doubt that Casey Calvert is one of porn's brainiest stars. (It's not every adult star who can claim to have contributed to the famous Economist magazine, after all!) This time, she's behind the camera, with the unusual challenge of shooting an ambitious spoof during a pandemic that precluded a conventional porn shoot. (This is neatly resolved by assembling sequences shot at various locations, with the cover of the documentary format to account for the raw verite style such footage inevitably assumes.) While the Tiger King source material is not exactly cerebral, Calvert approaches it with all the satirical humor and flair you'd expect.
The MILF cred is sky high
Even though the movie is not really a true-blue MILF movie in the usual sense, since the cast features a diverse array of performers of various ages, it does have two of the best cougars in the business: Cherie DeVille and Reagan Foxx. Both of them seem to be having the time of their lives in roles that allow them to show off their comedic chops as well as their sexy side.
Max running time for your money
Since this exclusive video collects episodes that debuted as a multi-part series, you essentially end up with a supersized movie of pleasingly mammoth proportions: 221 minutes! Just like with a Netflix series, you can either binge it all in one go, or divvy it out across the week.
Incredible solo scenes
Given that the movie is constructed primarily in a documentary style with solo performers talking to the camera, it'll come as little surprise that the explicit side of the movie leans heavily on masturbation scenes. Toys, fingers, room-shattering moans, limbs splayed wide: this is solo action with as much oomph as the most spectacular orgy. (Several girl/girl sequences are mixed in, too, lest you worry that the movie focuses solely on solo.)