'The Psychia Tryst' (Must-Watch Lesbian Porn)
The new, improved GameLink website features more movies than ever before! Browse the incredible full selection here.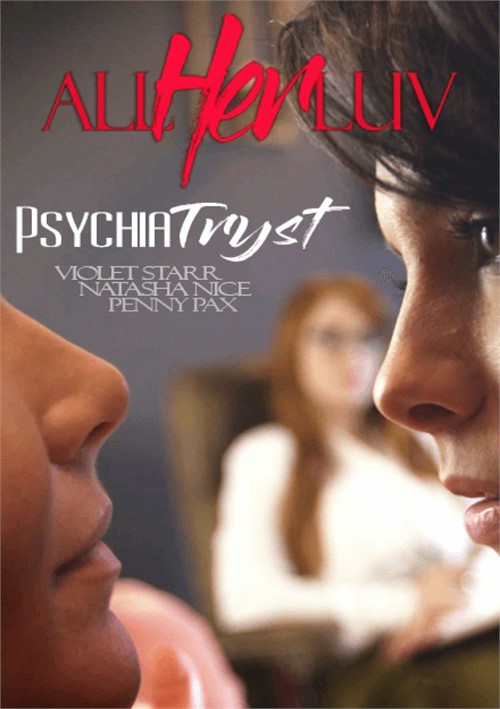 The Psychia Tryst runs just 40 minutes in length, but it is a marvel of economy in name-checking numerous fetishes within that running time. Spanking, stepmoms, sexy psychiatrists, voyeurism, panty-sniffing . . . it's all here! Heck, they even manage to squeeze in a deft use of the famous classical piece "Danse Macabre" at one point on the soundtrack. In that same spirit of economy, the movie as a whole can probably be summed up via two quotations, taken from different moments in the same scene.
Penny Pax: Some people have fetishes, and not all of them are appropriate.
Violet Starr: I need my mommy to spank me when I'm bad, and if you like it, we can take it to the next level.
That really says it all, don't you think? It should not come as much surprise that they do indeed go to that next level. But let's not get ahead of ourselves! The movie opens with a testy exchange between a stepmom (Natasha Nice) and her stepdaughter (Violet Starr). Nice thinks that it's time for Starr to visit a psychiatrist to work through some issues that have clouded their relationship. Starr isn't enthusiastic but ultimately goes along with the plan. Before long, though, Starr turns the tables on Nice by saying that both of them need to attend the next session. The therapist is played by the versatile Penny Pax, who, as always, is quite adept at projecting sophistication and sexiness in equal measures. As Starr begins to confess a shocking, forbidden attraction to her beautiful stepmom, Pax finds herself increasingly aroused. (Penny's flushed expressions and uneasy shifting mirror those of the audience, which will also find itself caught up in Starr's sexy confession.)
It's at this point that the scene shifts more directly into fantasy. It's plausible to imagine a stepdaughter admitting a secret crush on her stepmom in a therapy session, but it's more outlandish to envision the therapist actually asking the stepmom to then paddle the stepdaughter. AllHerLuv manages the transition with typical skill, though, allowing us to slip into the hardcore segment of the movie without missing a beat. As Starr begins to get wetter and wetter, Nice shakes off her initial trepidation . . . as well as her clothes! (It's here that "Danse Macabre" enters the soundtrack, providing an escalating dance rhythm to the paddling and moaning onscreen.)  Pax isn't content just being a bystander, of course, so before long, she's joining in, too! (After a little coaxing from Starr and Nice, that is.)
While it may not resemble any therapy session we've ever heard of, The Psychia Tryst reminds us to keep an open mind! (Get it on sale at GameLink today — limited time only!)