Movie Review: 'Private Lives'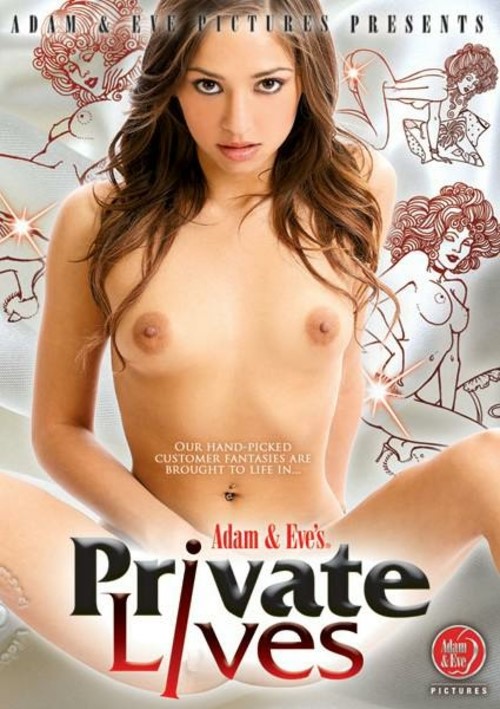 The concept behind Adam and Eve's Private Lives is an appealing one to me, considering that most of my early porn experiences were reading Penthouse letters; the idea of real people sending out these little fantasies in a bottle to the people who publish porn stirs something from my formative years. I am curious and ?
Purchase Adam and Eve's Private Lives
The concept behind Adam and Eve's Private Lives is an appealing one to me, considering that most of my early porn experiences were reading Penthouse letters; the idea of real people sending out these little fantasies in a bottle to the people who publish porn stirs something from my formative years. I am curious and eager to find out how Adam and Eve's realization of this kind of thing stacks up to the excitement of memory. Even if it is much harder these days to imagine someone sitting down and writing an actual paper and pen letter to a porn company, I'm willing to try suspending my disbelief. Usually it's my position that a movie deserves to be judged on its own merits, and I try to avoid spoilers when I write a review, but because we live in a fallen and imperfect world where people can get terribly upset about things that aren't very important, I think it is only fair to mention that toward the end of this movie, there is a dude giving another dude head. For myself, I think it is admirable of Adam and Eve to delve into this kind of activity and kind of hot. The old Penthouse letters from the 1970s, if you remember them, were terribly adventurous and rarely hewed to the beaten path; they often included fantasies about fat chicks, queer activity, pets and underage neighbors, but they were real in a way that porn these days is often not. If you are the kind of troglodyte who feels like seeing a man suck another man's cock will make you vomit or turn gay, you should back out now and leave this one to the modern man. If you are part of a couple, though, you should be aware that many, many more women than you know think this kind of thing is hot, and you should give it a shot. I promise, it won't make you gay (Note: Gamelink assumes no responsibility for you turning gay if you see a man sucking another man's cock; this my personal guarantee that you will not turn gay is not legally binding). Watching Dana DeArmond in the role of hostess introduce these scenes is weird she's almost unrecognizable, made up and tarted up and cheered up to the point where I wonder why they picked her for the role; it is possible that they knew they were going to be treading some kinky(ish) ground and figured on her alt-cred to draw in the kind of people who wouldn't mind a little freakiness. Whatever the case, she is a little hard to take, grinning and simpering, but Dana DeArmond at her worst and she is definitely not at her worst here is still not too bad. This is definitely couples fare, and the first scene doesn't break much new ground at first. It's all about Jessica Ryan, a sexy little redhead whose husband is developing a leather fetish, but not the kind that involves a lot of buckles and chains and body harnesses and whatnot he just has some leather swatches that he is planning on making a jacket out of, and he and his girl get kind of hot playing with it, which leads to him coming home with a pair of hot leather shorts and a leather dildo for her. This is really two scenes the first part is some handwork on the couch to establish how hot the leather gets them, and the second is the payoff, where they reconvene in the bedroom and go all the way. There's a little kink here, but not enough to really surprise; the leather dildo is a treat, and so is the fucking, which is slow, sensuous, and seemingly sincere.
Scene 1 Private Lives by Adam and Eve
The second scene is another multi-parter; Sara Luvv is a cute brunette with a slender body; her boyfriend Jake is the owner of the company where she works, which makes it easy for them to shut the office door and engage in the kind of hijinks that would engender a lawsuit in most workplaces. Here, it just inspires the other employees Jessica Madison sticks her head in when Sara is on her knees sucking Jake's cock, and the sight makes her want to do a little sucking of her own, so she accosts Cody and gets her wish. She's a little bit of a tease, though, and the blowjob is interrupted, to be resumed later. She eventually finishes him off, and Sara and Jake finish up themselves at home after work hours.
Scene Private Lives by Adam and Eve
Katie St. Ives and Chad Alva report on their invitation to a secret orgy, at which the participants wear masks and not much else. There's not much foreplay or plot to this one accompanied by Dana, the couple shows up at the orgy (the rule is that each person has to spend the first couple of hours separated from his or her date) and just goes to town. The scene is complicated by the fact that all seven of the women listed in the credits Katie St. Ives, Dana DeArmond, Dillion Harper, Karmen Karma, Sarah Shevon, Jessica Madison and Rilynn Rae (only five of whom actually have sex) are brunette and spend a good chunk of their orgy time wearing masks. If you're willing to put the time into figuring out who is who by matching up tattoos, you're welcome to; for me, it's enough to catch glimpses of the transcendent Katie St. Ives, who I would be happy to watch doing laundry. It's a good, dirty scene, with enough variety and activity to keep anyone happy. Dana DeArmond and Karmen Karma also stand out.
Scene Private Lives by Adam and Eve
This scene is pretty hot, for a few reasons. Even if you're not into bisexual men, it's nice to run onto something unexpected in porn, and a scene like this is nothing if not unexpected. It's narrated by Dominik Kross, whose protestations of a lifetime of heterosexuality are belied by his haircut; he and Jimmy Broadway are working out at their gym, and Alyssa Branch comes in to do some working out herself. The changing room is just a chainlink fence surrounding some lockers, and when Alyssa gets out of her business suit on the way to her workout clothes (which she never really gets into), the whole slow strip is visible to the two guys in the gym, and when she just sits down and starts masturbating, naturally, they can see that as well. Things proceed from there about as you would expect them to, and the cocks come out in short order. Aside from whatever gym fantasies you may harbor, there is exhibitionism and voyeurism in play here, and some element of fashion kink, too, with the tight clothes, not to mention all the exercise machinery. We're obviously headed for a threesome, and Dana's introduction has left no doubt about what kind it's going to be (she thoughtfully warns you about the bisexuality), and after Dominik and Alyssa make out and do a little petting, they break off and get to some more exercising, during which Jimmy Broadway takes over and gropes Alyssa while she's exercising. That stirs Dominik to jack off while he watches, and then join in, and we're off. The rest is a pretty standard threeway until Dominik goes down on Jimmy, and all of a sudden the game changes entirely. To be fair, it only changes that far the cocksucking is the extent of the bi action, but it is still a huge change from the usual fare. Both guys do at least a little sucking, which is considerate, and Alyssa rewards them both with some of her own, and Alyssa rides both of their faces. The scene is all oral, with no fucking, but that's quite enough. If you can enjoy it on those terms, you'll have a good time.
Scene 4 Private Lives by Adam and Eve
Purchase Adam and Eve's Private Lives